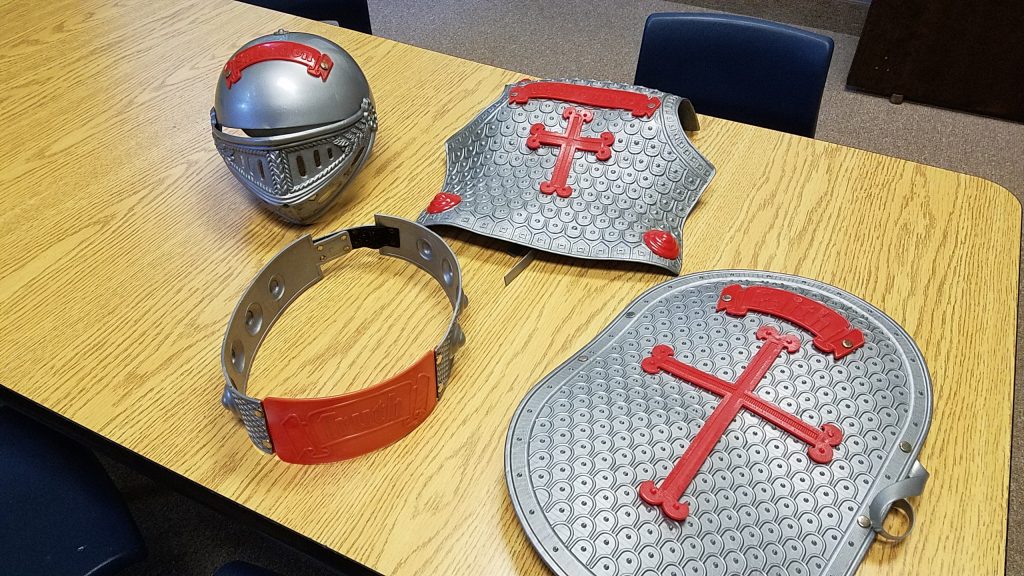 [13] Therefore take up the whole armor of God, that you may be able to withstand in the evil day, and having done all, to stand firm. [14] Stand therefore, having fastened on the belt of truth, and having put on the breastplate of righteousness, [15] and, as shoes for your feet, having put on the readiness given by the gospel of peace. [16] In all circumstances take up the shield of faith, with which you can extinguish all the flaming darts of the evil one; [17] and take the helmet of salvation, and the sword of the Spirit, which is the word of God, [18] praying at all times in the Spirit, with all prayer and supplication. To that end, keep alert with all perseverance, making supplication for all the saints, (Ephesians 6:13-18a ESV)
Every day I wake up, take a shower, shave, put on my clothes, and begin eating breakfast–usually a banana and coffee. (Okay, sometimes I wait to shower and shave until after I exercise at the Y). In our walk with God, we are called to put on our spiritual armor. These are not just nice words pictures, or toys in which kids can dress up. As followers of Jesus we believe that God has done something and is doing something in the supernatural realm that has a real-time impact on our lives in the natural realm.
Take for example- the helmet of salvation. In ancient warfare, any direct blow to the head with a club or sword would be fatal, therefore the head had to be protected. In the same way, we must protect our minds with the helmet of salvation. God tells us in his word (my paraphrase of various verses):
"You are saved from your sins- fully forgiven. Christ has met all the just requirements of God's law, so you can give up your need for perfection and performance. You need not be ashamed, God welcomes you into relationship with him and has taken the blame on your behalf. Christ gives you peace- he himself is our peace (Ephesians 2). You need not seek ultimate approval from other people or other endeavors, because Jesus calls you friend. You were once lost, but now you are found. Like a lost sheep that has wandered off, the great shepherd carries you on his shoulders and rejoices that he has found you! God sings over you and delights in you (Zephaniah 3), and he has prepared a place at his banquet table for you- (Luke 14). You are being guarded by God's power through faith, even though for now you have to walk through various trials (1 Peter 1). You are protected by God!"
Consider the Belt of Truth- The belt is what would have held up the other parts of the uniform- it binds things together and holds them in place. Without the belt, the rest of the armor is dislodged. Similarly, unless we have our minds fixed on truth, our thoughts become disjointed and haphazard. Paul says to Titus, "When love and kindness of God our savior appeared, he saved us not because of righteous things we had done, but because of his mercy. He saved us through the washing of regeneration and renewal by the Holy Spirit whom he poured out on us generously through Jesus Christ. This is a trustworthy saying." (Titus 3:4-5)
Put on the armor of God today- and protect yourself from Satan's fiery darts, flaming arrows, weighty clubs, rocks, sticks, and anything else he tries to throw at you. Christ is able to make you stand!