A Brief History of Trinity Community Church
Trinity Community Church was founded as Cary Evangelical Free Church in June 1994 as a church plant of the Evangelical Free Church of America (EFCA), under the supervision of the SE District of the EFCA. Pastor Ken Aune, with his wife Cindy and family, planted the church, gathering together a group of families interested in a new church. Many of them were former members of EFCA churches in other places. A core group of about 40, including children, began to meet in October 1994 on Sunday evenings. Sunday morning worship began in April 1995. For the first 7 years, the church met at a day care center (Children's Discovery Center) in Crossroads Plaza in Cary. During that time attendance grew to 100, the church was incorporated and formally organized, with Elders and membership. Autonomy was granted by the district in 1999, making the church a fully participating member of the SE District and the EFCA. In 2001 the church bought property in Apex and began to make plans to build there. The church moved to a leased facility located in W. Raleigh in January 2002. That same year Cary EFC changed its name to Trinity Community Church (TCC) reflecting a desire to make a theological statement (God is Three in One) and that we want to reach into the community with the message and presence of Christ. In June 2008, Trinity moved into a 5400 square foot facility in Cary that was built out in partnership with the landlord. A few years later, TCC sold the Apex property and purchased the space which had been our home for 4 years. Trinity continues to meet in this facility.
Over the years Trinity has provided a church home for many people. Some of those were with us for a short time, having come to the area to pursue a degree at one of the universities. They were discipled by Trinity and then went to other places to serve the Lord. Trinity has sent a few of our people into ministry – some long-term, others short-term. Most of the children and youth who grew up in the Trinity family have remained true to their profession of faith in Christ. During the era in W. Raleigh, TCC had a part time Associate Pastor, who focused on Community Life. More recently, Trinity has hired part time Worship Leaders to lead and enhance our Sunday worship.
Pastor Ken Aune retired in April 2017, after 39 years of pastoral ministry in the EFCA – 23 of which were at Trinity Community Church. He and his wife continue to be actively involved members of TCC. In June 2017 TCC welcomed a new pastor, Jim Folk, and his wife Emily and their daughters – Muriel and Corrine.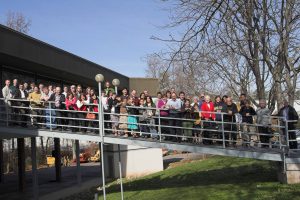 Trinity congregation outside Worship Center at W. Raleigh location c.2005